I have started a new painting today in my prayer/art journal. This Sunday is Trinity Sunday and although I will be preaching on the words of The Grace (the New Testament reading) on a personal level I have been drawn to the words of the Old Testament reading from Isaiah. This is possibly because I have been feeling quite tired lately.
Isaiah 40:28-31
28 Have you not known? Have you not heard?
The Lord is the everlasting God,
    the Creator of the ends of the earth.
He does not faint or grow weary;
    his understanding is unsearchable.
29 He gives power to the faint,
    and strengthens the powerless.
30 Even youths will faint and be weary,
    and the young will fall exhausted;
31 but those who wait for the Lord shall renew their strength,
    they shall mount up with wings like eagles,
they shall run and not be weary,
    they shall walk and not faint.
So I decided to do a picture of an eagle soaring. After doing an internet search for images and saving a few I laid down the background.
The next step, having asked Terry to print out the eagles for me, was to cut the birds out and place on my background to help me decide on the compostion.
I had to make a decision and go for it….. there's only so long you can procrastinate. Near the beginning of this endeavour I prayed a Blessing Before Creative Work that I had written in January 2018 during the first week of my sabbatical. So I came to the conclusion that having committed this to God in prayer that I would be guided in making the right decisions for the piece.
I wrote and decorated this blessing as part of my re-engaging with my inner artist and monk – a phrase from the book I was working through by Christine Valters Paintner,The Artist's Rule: Nurturing Your Creative Soul with Monastic Wisdom. I would recommend this book to anyone who is interested in bringing together their art and prayer life.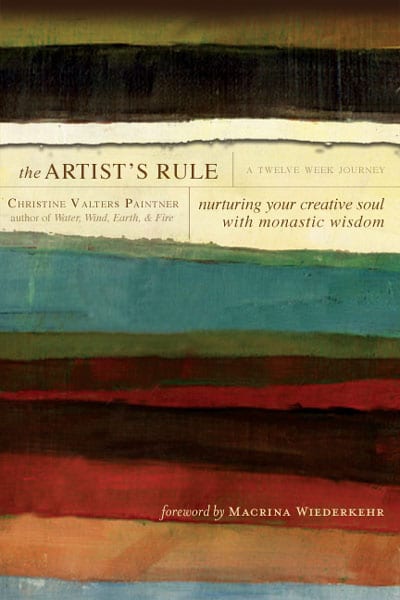 Back to my eagles and today. I have got as far as painting in the eagles. I placed the cut outs on the page and drew round them lightly with pencil. They have only had one layer of paint. The next step will be to add feather detailing and then improve the background. Still quite a bit of work to do, but I don't want to rush it. I am not happy with the smallest bird. In order to scale it down I drew around one of the photos and then did another pencil line inside the first one. Not very well – but the joy of using acrylic is that I can go over the black with some blue and it will cover up. For the middle size bird I turned the photo over so it was the reverse way round.
I may write some of the bible words on it – but then again I might not. I have done all I am going to do today. Interestingly, in one of those coincidences in life, I did some proof reading of my book today and the section I read contained references to this Isaiah passage. When this painting is finished, I will share both the painting and that bit of my story from an occasion when the image of eagles soaring meant so much to me and happened at a time when God's 'coincidences' were at work.
I had a lovely walk after lunch with Terry over the Weaver hills. Only a short one but it was bracing weather with a little bit of hail mixed in with the shower of rain. We saw some lovely thistles, which I suggested Terry re-visit with his camera when it is not so windy and perhaps with more sun.